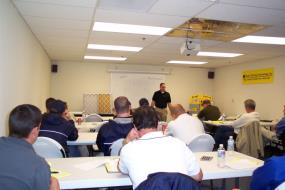 IAQ Training
With Matthew Maleske
You Can't Afford To Not To
Send Your Techs and Sales Team to this 3 Day event
Sponsor a Training in your hometown


2 Day Benchmark Technician Training: $395.00 Wednesday/Thursday
1 Day IAQ Sales Emersion Course: $195.00 Friday
Sign Up for both sessions $95 Saver $495.00 All three days
$495.00 Super Savings
Sign Up for 3 or more people Owner or Manager goes for FREE!!!
Space is limited call now
1-209-304-5450
With Matthew Maleske
Certified Indoor Environmentalist
Is Indoor Air Quality really a big deal? Yes, in fact it's a $10 billion market deal!
That's right; this market of our business is ever growing and will soon be 25% of our entire industry. Unfortunately, HVAC Contractors are allowing deparment and hardware stores to take away 65% of the market! Heres your chance to get you and your company educated. Learn how to make a difference with IAQ management, revitalize your sales, and expand your customer service. Take advantage of these business solutions customized for the HVAC Contractor.
Matthew started in this industry as a field technician. He rapidly moved up into sales and management. The last 4 years he has spent his time as a general manger for General Air Conditioning & Heating. His skills took this company for a 2.4 million dollar operation with no IAQ revenue to 6 million dollars with over $200,000 in IAQ Sales. The great thing is these additional sales came from existing customers that they were already attending to.
Let matthew show you and your people the art of IAQ sales. It starts with a proper education on IAQ history and IAQ products. Then he will show you how to properly presnt this information to creat sales which result in 65% Gross Margin!
This class will have a huge impact on your business. It only takes one day, and a free lunch is included. For out of town guests, we can recommend several hotels. Pay before the class and receive a $95 credit with HVAC Performance Products, good for any of our products.
Call for upcoming dates:
1-888-772-8111