This top-rated filter is the most affordable UV RATED air filtration option available for the home owner.
MEDIA SUPPORT: Diamond-shaped expanded galvanized steel for support, corrosion resistance, and prevent media flutter during operation.
Exclusive Hydrophobic Natural Fibers

Constructed of NATURAL Fiberglass, which is Hydrophobic thus will not absorb moisture.
Ecologically friendly

fibers will not support the growth of bacteria, mold, mildew or fungi in normal residential applications.
Unfortunituly man made materials used for air filters such as Polyolefin,

polypropylene, foam

and other s

ynthetic

materials

deteriorate

over a relatively short period of time.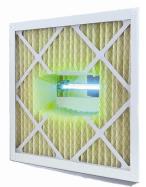 good in standard 1" and 4" filter tracks, cans and boxes
1" FILTERS:

14x25, 16x26, 20x25 nominal
Pressure Drop

for1 inch MERV-11 Filter: .15 @ 300 fpm
4" FILTERS:

14x25, 16x25, 20x25 nominal
Pressure Drop for 4 inch MERV-11 Filter: .10 @ 300 fpm
Average efficiency is 60-65% per ASHRAE 52.1-92.
MERV 11 rated per ASHRAE 52.2-99.